Last year I wrote about how I recorded my own album in a month for the RPM Challenge. I did the challenge this year too, so I thought I should write about my experiences again.
To recap, the aim of the RPM Challenge is to record an album of original music within the month of February. They define an album as either at least 10 tracks or at least 35 minutes. Last year I completed 10 tracks but when I put the CD into the player was slightly miffed to find it was a few seconds short of 35 minutes. It still counted, but this year I wanted to make an album which satisfied both criteria.
Last year's initial hurdles were not a problem this time around, as obviously I already had the hardware set up and had all the software I needed, and after last year's steep Learning Curve I had a better understanding of how to use it. There was one snag though. After a year of not recording anything, I couldn't remember how I had previously managed to get a decent guitar signal without brain-spinning levels of latency. About half-way through the project I'd pretty much made up my mind that the time spent trying to figure that out was better spent on making music and decided that the album would now be entirely keyboard based. And me, just a humble bass player 😉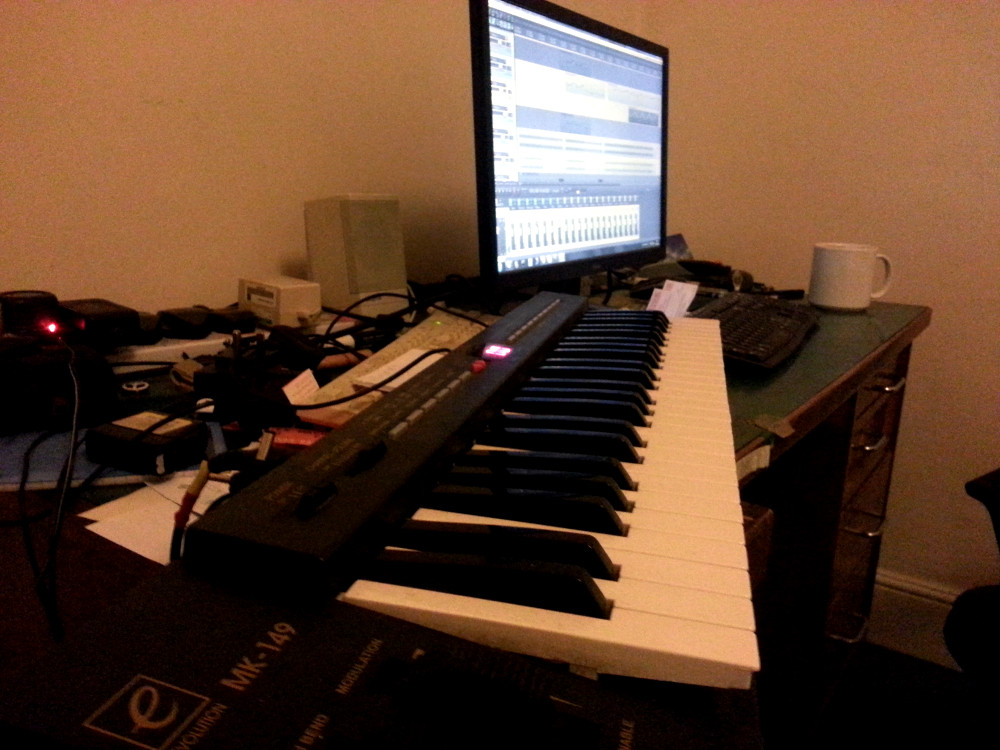 (Which should be very interesting considering I really am just a #BassPlayerInDisguise!) 😉 #RPM2015 #RPMChallenge

— Nigel Moss (@nigenet) February 25, 2015
It turned out that this was an inadvertantly useful decision, as last year I bought a new (larger) sofa which meant I had much less space around my desk, so the spread of instruments I had by the desk last year was not going to be possible. Going keys-only meant I just had to find space on the desk for the keyboard and that was it. However, I'm not really a keyboard player. I can find my way around one, and I know how to make basic major & minor chords (although I still often have to think about a chord before I can play it), and I hadn't even touched the keyboard since I unplugged it at the end of last year's recording. That said, I felt much more comfortable playing it this time around than I have before. There were a couple of arpegios here and there that feel a little too clunky but otherwise I'm generally happy with my playing. Two-handed playing is still a skill that largely evades me though, so there was a lot of multi-tracking 😉
It Begins!
So on Sunday 1st February I set everything up and started recording. Fairly soon, after a couple of days, I had the basic shells of a couple of tracks taking shape. More followed — I prefix the filename of each recording with an incrementing number, mainly because at this stage I don't have a title, and this number was getting higher and higher as the days went on. Some of these were nearly full tracks, many were nothing much more than jottings — I would have an idea, play a few bars of it and save it. But still, even with all these tracks being created, none were actually getting completed. Then the final week came and I still had nothing finished. I realised it was time to take stock.
Hmm. We're into the final week of #RPM2015 and I still haven't any completed tracks. A few nearly done, but none finished. #Yikes #AuditTime — Nigel Moss (@nigenet) February 21, 2015
I bought that most useful piece of equipment- a notepad in which I could scribble notes about each track, what state it was in and what needed doing to it.
As it's the last week of #RPM2015 thought I should take stock of what I have. 7 or 8 tracks close to completion. Many others that are not…

— Nigel Moss (@nigenet) February 22, 2015
Doubt set in…
Genuinely worried about finishing #RPMChallenge this year. 8 tracks *nearly* done but only 3 evenings & 1 day to finish everything #RPM2015 — Nigel Moss (@nigenet) February 25, 2015
But then, after a push, with only about 3 days left to go I finally completed my first track! Which is when I recalled one of the biggest problems of all – thinking of a title! After perusing the shelves I saw a book with the title "The Right Way To Play Chess" and decided to go with that.
And it begins! 1st #RPM2015 track finished & on Soundcloud. I present The Right Way To Play Chess 🙂 #RPMChallenge https://t.co/cGrdBQcM2g

— Nigel Moss (@nigenet) February 25, 2015
Over the following days, the bookshelves, websites, pretty much anything with words on would be raided in a desperate hunt for titles. I got two tracks finished that evening and uploaded to Soundcloud. The next evening another two tracks were completed and uploaded. The evening after that  (Friday) one more track completed and uploaded. I was halfway there, but with only one day to go! This was a slight disappointment, as I had always hoped to have the album finished for the Friday so I could post the CD into RPM HQ on the Saturday instead of having to go to the post office on my lunch break the following Monday.
The Final Day
So I got up on the morning of Saturday 28th February with one day to complete 5 tracks. I knew that I had 4 that were close to being completed. I also knew from the previous few evenings that it was taking me around 2 hours to complete each track. I also knew that this would only give me 9 tracks, and although I had plenty of draft tracks, any one of them would take a lot of work to get anywhere near completion.
Morning all! So, the final day of the #RPMChallenge and only 5 tracks to finish – some of which I've not even started! #Gulp 😉 #RPM2015 — Nigel Moss (@nigenet) February 28, 2015
I had mentally prepared myself for not completing 10 tracks and going for the time limit instead. This was easier as I had produced longer tracks this year.
Of course, there's the 35 minute rule too. I'm at 23.21 so far, so instead of 5 more tracks today I could do 11mins & 39 seconds #RPM2015 😉

— Nigel Moss (@nigenet) February 28, 2015
So with a bucket of tea I set to it. A couple of hours later a track was finished. One and a half hours after that and another one was. At this point I had to take a couple of hours out to go into town and buy food, otherwise I'd have nothing to eat the following week!
Once I got back I made another bucket of tea and got back on the case. By about 7pm I'd got 2 more tracks done which took me to 9 tracks and about 2 and a half minutes over the 35 minute line. I could have stopped but there was still time. I decided to start a whole new track. This in the end was nothing special, some nice sound effects with some simple piano lines over them. It's the shortest track and nothing particularly special to be honest, but it was the 10th track! I'd reached my goal! 🙂
All that remained was working out the track order, producing the artwork, uploading everything to Bandcamp, burning the CD etc… But this could all wait. It was time to go to the pub!
Back from the pub I knocked up some simple artwork, sorted out the track order and started uploading the tracks to Bandcamp which took far longer than I realised it would (for the life of me I don't know why I wasn't uploading the completed tracks to Bandcamp at the same time as I was uploading them to Soundcloud!)
I forgot how long it takes to upload tracks to Bandcamp. Wonder If I'll get this album up before #TheArchers omnibus starts? #RPM2015 😉

— Nigel Moss (@nigenet) March 1, 2015
By about 3am all the tracks were uploaded, the artwork was in place and the album published. All that remained was to burn a CD and print off the artwork for posting into the RPM Challenge team, but that could wait until Sunday as I couldn't post it until the Monday.
Time for bed!
Looking Back and Moving Forward
Overall, I'm much happier with this year's album than last year's. I've listened back to last year's and in places it feels unfinished. There's still plenty more I could have done with this year's album but I am much more satisfied with it.
Looking back, it seems that this year's challenge didn't feel quite as much of a chore as last year's. Yes, it still took a lot of free time. Yes, weekends and evenings were based around recording. Food was often whatever could be cooked with the minimum of intervention, and the local takeaway are probably wondering why their pizza orders have suddenly dropped off. It was still largely a case of get home from work, get changed, check emails, start recording, make food, eat, carry on recording, go to the pub, maybe record some more, go to bed. But even so it all felt somehow more relaxed than last year.
Looking forward, I do want to get the hang of plugging instruments / microphone in to record without suffering ear-withering latency, as that would give me far more scope. So I will be spending time trying to master this apparent dark art. Without the deadline of the challenge looming I can spend time tweeking hardware / software settings, maybe trying different hardware until I know I can just plug a guitar in to the computer and record it.
I also want to spend more time learning more about mixing and mastering. I have about 10 unused tracks from this challenge, plus a couple of ideas I'd started before the challenge but done nothing with, so I plan to spend plenty of time with each of these tracks and use them help me improve on various recording techniques.
Above all, I'm as keen as ever to take part in the challenge again next February. I think I'll start keeping a file of potential song titles in the meantime though! 😉
The Finished Product
The final album was given the title "5 Seconds Remaining" after a running joke between myself and a friend. As last year, I've made it available on Bandcamp on a pay-what-you-like basis (or pay nothing). I hope you like it.