The RPM Challenge is an annual challenge to record an album in the month of February which hundreds of people worldwide take part in. I've been meaning to take the challenge for the last couple of years, but have always found myself too late to start for one reason or another, so this year I was determined to do it.
It certainly could have got off to a better start… On my old PC I had the Sound Blaster Audigy Platinum something or other with the great breakout box (with all the connectors you could wish for) so I decided I should move that over to my current PC. Saturday 1st February came and went with a "Meh, it'll only take a few minutes" attitude and so I thought "I'll do that on Sunday". Sunday afternoon I started this job that should only take a few minutes. Several hours later I had a working soundcard and fully functional breakout box… 😉 As it was late on Sunday by now, and I had to eat, that was the first weekend of the month been and gone with no recording. Oops.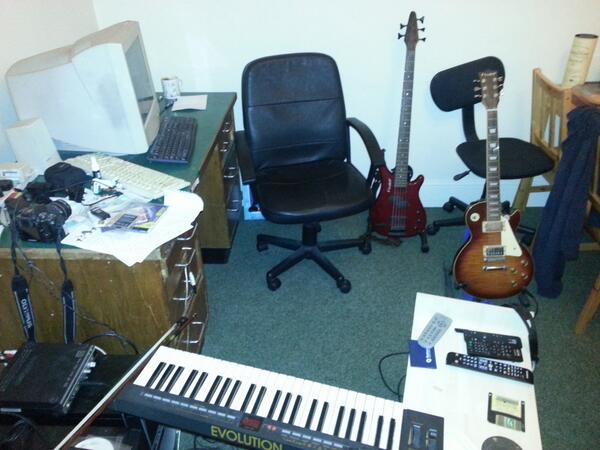 Also on that first weekend I tried a couple of local shops (computer shop, music shop) to get a MIDI lead to connect the keyboard to the computer. No such luck. I ended up getting one on Amazon which arrived a few days later.
My one bit of forward planning was to seek out some software to record on. I settled for Reaper and installed my 60 day preview version. I already had Hydrogen for a drum machine. When the MIDI lead arrived I searched for and downloaded some soft synths (my keyboard is purely a MIDI keyboard – it doesn't have any sounds at all).
Once I had all this together it was time to start recording! Or rather, it was time to start to learn how all these individual bits of software worked… Google was a good friend to me in February!
I was also struggling to get a decent signal from my "real" instruments (bass & guitar) through the soundcard. I didn't recall having such problems in the past. I eventually realised they had to go into the mic socket on the breakout box to use the pre-amp. As such, a lot of the earlier material was very guitar/bass-lite – a theme which continued through the month, which was sort of interesting with my limited keyboard ability 😉
Recording progressed. I would get home from work, make a brew, get changed, check emails etc then carry on recording. At some point I would make and eat food, then get back to recording. Earlier on in the month I would also spend far too long playing Minesweeper. There was plenty of time… 😉 Weekends involved getting up, making a brew, recording, going out food shopping, getting home, recording… I'll admit it often felt like a chore and I had to occassionally remind myself that it was a pretty good chore to have 🙂
In time I had several tracks as works in progress, and eventually I had one which I could consider to be complete. I'd done my first track! Yay! This thing is real! The last weekend before the deadline came and when I went to bed on Saturday night I still only had the one finished track. This was now disturbing me, so on the Sunday I started to audit what I had. I realised I had enough tracks, some more ready than others, and made notes about what needed doing on them. Once I had done this I had more of a plan and when I went to bed on the Sunday night I had another 3 tracks finished. I finished another on the Monday which took me to the halfway point. By Wednesday I had 7 tracks finished. I took stock of what I had left and was horrified to realise that two of the tracks were nowhere near as ready as I'd originally thought. I managed to get one of them closer to being done. On Thursday I started a whole new track…
So I only have 3 tracks to finish off tonight for #RPM2014 #FinalDay #eek

— Nigel Moss (@nigenet) February 28, 2014
Friday came. I worked hard on finishing the remaining tracks and eventually the final track was finished. I closed down all the recording software, sat back and breathed a sigh of relief. It was about 11.10pm, less than an hour before the deadline 😉 I burned a CD to post to the organisers the next morning, and then went to the pub! 🙂
Enjoying my first post-#RPM2014 pint! Can't believe I got it finished! With an hour to spare too 😉 CD ready to put in post tomorrow morn

— Nigel Moss (@nigenet) February 28, 2014
Things I have learned in the process
Make sure I have all the kit I need (hardware, software etc) set up and ready beforehand.
Make sure I also know how to use it.
Learn to play keyboard and guitar better. Much better.
I'm going to be honest. I'm not over the moon with the finished product. I don't think it really reflects what I wanted to do. But, I am immensely proud that I did it, and Good Chore To Have that it was, I'm really looking forward to taking part again next year! 🙂
The most appropriate title for the album was Learning Curve, as that is what the process most definately was! I've uploaded the album to Bandcamp where it is available on a pay-what-you-want basis (or pay nothing if you want).